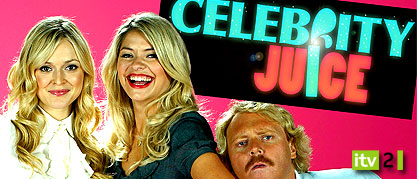 To be honest most game shows are not exciting and even the games that form the basis of the show are not that great. I associate great comedy television with Mock of the week, Have I got news for you and Never mind the buzzcocks. These shows presented a good panel relative to each show and they presented a unique comedy: Mock of the week was utterly full of wit and contention and so was Have I got news for you. Never mind the buzzcocks was unique and Noel fielding and Jedward made it pretty easy to carry on watching.
Celebrity juice is even better, it has bought back pure banter. It is in your face, it is crude, sexual and sometimes vile but that's what makes it a great show to watch. Keith Lemon is fantastic, I don't find him at all stupid or offensive... his one-liners are pretty sharp and if they offend Holly and Fearne then that in itself cracks me up.
This is a definite must see!
Probably the best show on evening television at the moment...